Mixed media (spray, acrylic, oil and Posca) on canvas
100cm x 100cm x 5cm
4300,00€
Painted with aerosol, acrylic, oil and Posca by Fred Alione in a style between Graffiti and comics.
Delivery
The delivery time for this work is 7 to 10 days.
Good to know
We are at your disposal to answer any questions you may have about this work. you may have about this work. Do not hesitate to contact us by clicking here.
About the artist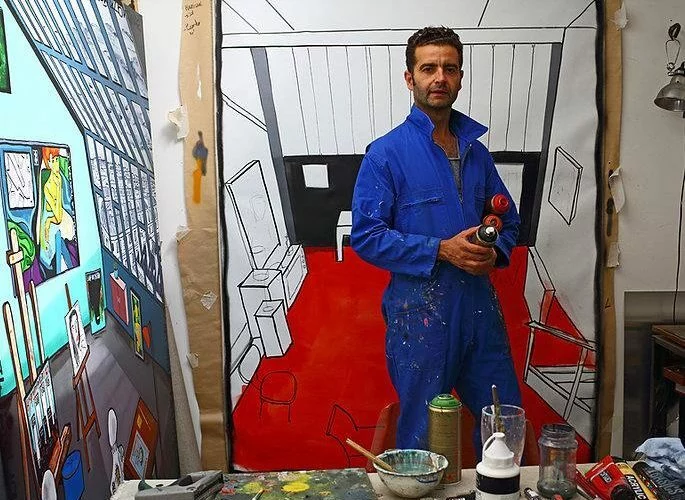 Alione: urban artist at the crossroads of graffiti and comics.
Born in 1974, the artist has drawn since his childhood. "It was in 2003 that I really discovered the medium of painting thanks to Jean-Michel Basquiat" says the artist. Indeed, many references to Basquiat are hidden in Alione's paintings, the small famous crowns on the Champagne bottles, Basquiat-inspired canvases integrated into the decorations invented by the artist. The paintings represent Parisian interior scenes and recall the Interiors series by Roy Lichentestein. These are universes imagined by the artist who are both Parisian lofts but also spacious artist studios.
Fred Alione has fun adding elements and winks to artists who inspire him: Jeff Koons, Gustav Klimt, Robert Combas, Pablo Picasso, Le Douanier Rousseau, Piet Mondrian, or even references to primitive African art. "What amuses me is creating details." Alione borrows different techniques. Everything is first drawn in charcoal, the elements are placed on the canvas to be then filled either with spray paint or acrylic paint. The artist reserves the use of paint in oil only for the panoramic views of Paris. In a game of setting in abyss and perspective between interior and exterior, the Parisian greyness contrasts with the interiors warm. The color balance is perfect. Despite the absence of characters, the interiors Alione are alive. Some traces of life: abandoned beer bottles, cigarettes in the ashtray, a letter on a corner of the table, or even a train ticket indicate that the places imagined by the artist are inhabited … In these fictional settings we observe a recurrence of the plant (plants take over all the spaces) and still lifes: fruits, bottles of wine.
Claire Nini